ScientiPics of the month
2013
Skip text and jump to pictures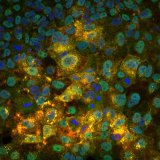 A few times now, some friends of mine told me that I had taken some nice pictures with my microscope. And because I really liked the concept of "Picture of the month" on the website of the Disease Biophysics Group at Harvard, I thought I would do the same with some pictures I took. So to start the month of March, I am glad to present the


Scientipics of the month



These picture will be from many sources, mainly from failed or buggy experiments, because that's usually when your pictures are the best, according to Murphy's law :)
They will be accompanied by just one title: no scientific explanation, no scalebar, nothing to distract you from the "art side" of the picture. I hope you will enjoy it!

| | |
| --- | --- |
| | Pictures from gallery : ScientiPics of the month |
| | |
| | |